Der Antiparlamentarismus einer im Reichstag stark vertretenen Partei, der Sozialdemokratie
Antiparliamentarism within a Well-Represented Party: Social Democracy in the Reichstag
L'antiparlementarisme dans un parti bien représenté au Reichstag, la social-démocratie
Obwohl die Sozialdemokratie als erste Arbeiterpartei Europas seit ihrer Gründung stets im Reichstag vertreten war, hat die parlamentarische Tätigkeit innerhalb der Partei immer wieder zu Auseinandersetzungen geführt. Diese betrafen sowohl den eigentlichen Sinn derselben wie auch konkrete Fragen, nämlich in welchem Maße die Sozialisten sich im Parlament einsetzen sollten oder auch die der Reichtagsfraktion zugewiesene Rolle in der Partei. In diesem Artikel werden die Stellungnahmen der jungen SPD in den 1860-1880er Jahren mit jenen in den Jahren 1890 und 1891 verglichen, als die Opposition der sogenannten Jungen die Parteiführung des Parlamentarismus bezichtigte. Diese Partei drückte zwar eine gewisse Verachtung gegenüber der Arbeit im Parlament aus, doch wurde sie ständig mächtiger gerade durch die Wahlen und ganz besonders durch den Reichstag, der ihrer Propaganda eine unerhörte Resonanz verlieh und ihr des Weiteren ermöglichte, sich organisatorisch weiterzuentwickeln.
Although from its beginnings the Social Democratic Party successfully sent members to the Reichstag, it was also subject to conflicts about parliamentary work. These dissensions revolved as much around the very principle of parliamentarism as around practical questions concerning the degree of Socialists' involvement in Parliament and the weight given to the parliamentarian faction within the party. The purpose of this article is to compare the SPD's position in its early years when some leaders displayed strong antiparliamentarian standpoints with its position twenty years later, when a minority faction criticized the same leaders for being electoralist. In fact, the SPD, which showed contempt for Parliamentary work, actually gained strength for decades through successive elections, notably those for the Reichstag, in which they acquired both an audience and new members.
La social-démocratie, qui dès sa fondation a su envoyer des élus siéger au Reichstag, fut traversée dès l'origine par des dissensions sur le travail parlementaire. Elles portèrent sur son principe même ainsi que sur des questions concrètes, concernant le degré d'implication des socialistes dans les parlements ou encore la place accordée dans le parti à la fraction parlementaire. L'objet de cet article est de comparer le positionnement du SPD dans sa jeunesse, lorsque certains dirigeants affichaient des attitudes antiparlementaires prononcées, et vingt ans plus tard, quand une tendance minoritaire reprocha aux mêmes dirigeants leur électoralisme. De fait, le SPD qui professait un certain mépris envers le travail parlementaire se renforça pendant des décennies notamment au travers des élections et de ses élus, le Reichstag lui permettant de trouver tout à la fois une audience et de nouvelles recrues.
Fichier principal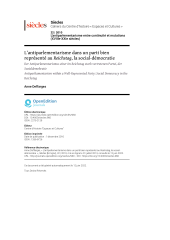 siecles-960.pdf (234.96 Ko)
Télécharger le fichier
Origin : Publisher files allowed on an open archive