Apprentissage de la conscience phonologique et de la lecture en anglais en lien avec la méthode Suzanne Borel Maisonny
The aim of this Master thesis is to study whether the Suzanne Borel Maisonny method," phoneticgestual method", intended to help native speakers when they learn to read, can also help students when reading in a foreign language, and more precisely in English. The experimental part is divided into two distinct parts over time. The first part presents the experiment carried out, as well as an analysis of the data collected. A second part, elaborated the following year, presents a critical feedback on the implementation of the experiment. This critical feedback attempts to present the biases that may have had an influence on the implementation of the experiment. It is based on new reading, as well as professional exchanges with my Master thesis director, my colleagues and a pedagogical advisor.
Ce mémoire se fixe pour objectif d'étudier si la méthode Suzanne Borel Maisonny, « méthode phonético-gestuelle », destinée à venir en aide à des natifs lorsqu'ils apprennent à lire, peut également venir en aide aux élèves lors de la lecture en langue étrangère, et plus précisément en anglais. La partie expérimentale se divise en deux parties distinctes dans le temps. Une première partie présente l'expérience menée, ainsi qu'une analyse des données recueillies. Une seconde partie, élaborée l'année suivante, présente un retour critique sur la mise en œuvre de l'expérience. Ce retour critique tente de présenter les biais qui ont pu avoir une influence sur la mise en œuvre de l'expérience. Il s'appuie sur des lectures nouvelles, ainsi que des échanges professionnels avec mon directeur de mémoire, mes collègues et une conseillère pédagogique.
Fichier principal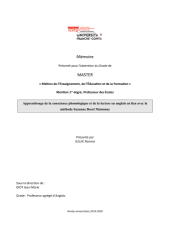 SULJIC_rasima_PE70_2020.pdf (1.76 Mo)
Télécharger le fichier
Origin : Files produced by the author(s)