Interroger les rapports humanité / nature dans Tobie Lolness et Princesse Mononoké
This essay gives an ecocritical comparative study of two works for young people : Tobie Lolness, a 2006 novel written by Timothée de Fombelle and Princess Mononoke, a 1997 japanese animated movie directed by Hayao Miyazaki. These two works show young heroes engaged with ecological issues. They invite young readers and young spectators to meditate on their own relationship to the environment. This essay continues with a didactic analysis and a description of how these two works of art can be studied in class with 12-year-old pupils.
Ce mémoire présente une étude comparée de Tobie Lolness, Livre 1, roman d'aventures jeunesse écrit par Timothée de Fombelle et publié en 2006 et de Princesse Mononoké, film d'animation japonais réalisé par Hayao Miyazaki en 1997 abordées sous l'angle de l'écocritique. Ces deux œuvres jeunesse mettent en scène de jeunes héros en prise avec la problématique écologique : comment l'industrialisation et les activités humaines mettent en danger la planète et, ce faisant, l'humanité ? Elles invitent à une prise de conscience des jeunes lecteurs·trices et spectateurs·trices à travers deux univers imaginaires qui s'appuient sur des postulats culturels différents : naturalisme occidental d'un côté, animisme hérité du shintoïsme ancien de l'autre côté. Ce mémoire se poursuit par une réflexion didactique et une mise en oeuvre pédagogique de l'étude de ces deux œuvres dans le cadre d'un cours de français en classe de 5ème (cycle 4).
Fichier principal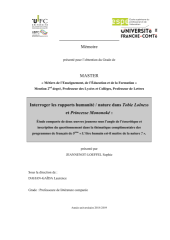 JEANNENOT_Sophie_lettres_2019.pdf (111.19 Mo)
Télécharger le fichier
Origin : Files produced by the author(s)