Impact du PLUm sur le champ des possibles en matière de mise en œuvre de dispositifs améliorant la gestion hydrothermique des espaces urbains
In the current context of urban development, soils are becoming more and more artificial, which reduces the available surface area of open land. During rainy episodes, water, unable to infiltrate the impermeable soils, runs off, causing the phenomenon of runoff. This disrupts the water cycle, increases the risk of flooding and overloads the sewer system. In addition, the runoff may carry pollutants before reaching the network or the natural environment. To address this issue, communities are considering implementing an integrated water policy that promotes infiltration of water to the parcel while using nature-based solutions. However, the implementation of these new management methods depends on the urban planning documents put in place to frame their legal treatment. So, how can local authorities measure the effectiveness of urban planning documents with regard to water management ? Are the planning documents put in place adapted to the territorial issues at stake? This report is the result of a Master 2 internship, carried out within the framework of the MANIPUR project (Methodology for the ImPact Analysis of Urban Planning Documents, french acronyms), a collaboration between the Laboratoire Eau et Environnement of the Université Gustave Eiffel and the Laboratoire AVENUES of the Université Technologique de Compiègne. The objective of the project is to assess the compatibility of the regulatory framework with the possibility of implementing climate change adaptation solutions for thermal comfort and water management in cities.
Dans le contexte actuel de développement urbain, les sols sont de plus en plus artificiels, ce qui réduit les surfaces disponibles de pleine terre. Lors d'épisodes pluvieux, l'eau, incapable de s'infiltrer dans les sols imperméabilisés, s'écoule en provoquant le phénomène de ruissellement. Cela perturbe le cycle de l'eau, augmente le risque d'inondation et surcharge le réseau d'assainissement. De plus, les eaux de ruissellement risquent de transporter des polluants avant de rejoindre le réseau ou le milieu naturel. Pour faire face à cette problématique, les collectivités réfléchissent à la mise en œuvre d'un politique intégrée de l'eau qui promeuve une infiltration des eaux à la parcelle tout en utilisant les services fondés sur la nature. Toutefois, l'implémentation de ces nouveaux modes de gestion est dépendant des règles d'urbanisme mises en place pour encadrer leur traitement juridique. Alors, comment les collectivités peuvent-elles mesurer l'efficacité des documents d'urbanisme vis-à-vis la gestion de l'eau ? Les règles mises en place sont-elles adaptées aux enjeux territoriaux ? Ce rapport est le résultat d'un stage de master 2, déroulé dans le cadre du projet MANIPUR (Méthodologie pour l'ANalyse d'ImPact des documents d'URbanisme) issu d'une collaboration entre le Laboratoire Eau et Environnement de l'Université Gustave Eiffel et le Laboratoire AVENUES de l'Université Technologique de Compiègne. L'objectif du projet est d'évaluer la compatibilité du cadre réglementaire avec la possibilité de la mise en place des solutions d'adaptation au changement climatique en ce qui concerne le confort thermique et la gestion de l'eau dans les villes.
Fichier principal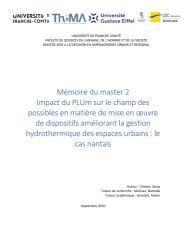 CHAVEZ_Saray_Geographie_2020.pdf (6.5 Mo)
Télécharger le fichier
Origin : Files produced by the author(s)