Le rapport d'un professeur des écoles à l'inclusion : regard psychanalytique
This work aims to understand, from the field of the psychoanalytic orientation clinic, the unconscious determinants which organize the inclusion relation of a school teacher who has already been involved himself in an inclusion situation during his career. Half-no-directive tals had been leed with a school teacher to be interpreted as part of a case study. This study let identify an inclusion relation buildt on the Houssaye's pedagogic triangle bringing to light an inaccessible knowledge, a hold drive and an unreachable ideal. It emerge that to be able to take account of the unconscious causes which impact his inclusion relation, the school teacher has to be involved in a professional development action, collaborate with his work mates and school's partners, and act as responsible educator.
Ce travail appréhende depuis le champ de la clinique d'orientation psychanalytique, les déterminants inconscients organisant le rapport à l'inclusion d'un professeur des écoles qui s'est trouvé engagé dans une situation d'inclusion au cours de sa carrière. Des entretiens semi-non-directifs ont été menés avec une professeur des écoles afin d'être interprétés dans le cadre d'une étude de cas. Cette analyse a permis d'identifier un rapport à l'inclusion construit autour du triangle pédagogique de Houssaye en mettant en évidence un savoir inaccessible, une pulsion d'emprise et un idéal inatteignable. Il ressort alors que pour prendre en compte les causes inconscientes qui impactent son rapport à l'inclusion, le professeur des écoles doit s'engager dans une démarche de développement professionnel, coopérer avec ses collègues et les partenaires de l'école, et agir en éducateur responsable.
Fichier principal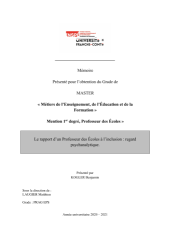 KOGLER_Benjamin_PE25_corrigé_2021.pdf (1.25 Mo)
Télécharger le fichier
Origin : Files produced by the author(s)