Numérisation de données et aménagement du territoire, réflexions à partir de la création d'une base de données géo-historique permettant la vectorisation collaborative d'un réseau viaire régional sur le temps long
In the context of the COVADEO Project, this document aims to show the progress made in understanding the historical evolution of the territorial patterns of the Burgundy-Franche-Comté region, located in eastern France. This is done through the collaborative vectorization of historical maps, which allows us extracting the geometries of each of the roads that can be observed on those maps. In turn, this information is stored in a geo-historical database by which we can track the evolution of the regional road system over time. In this regard, the present study shows that road networks are one of the systems that structure the territory and directly influence its morphology. In addition, this study allows us understanding the importance of identifying the historical causes of territorial problems and challenges, in order to establish urban and regional planning strategies adapted to the environmental, social, and economic conditions of each territory.
El presente documento tiene como objetivo mostrar los avances que, en el marco del proyecto COVADEO, se han realizado con miras a comprender la evolución histórica de la trama territorial de la región de Borgoña- Franco-Condado, localizada al oriente de Francia. Esto, mediante ejercicios de vectorización colaborativa de mapas antiguos a través de los cuales se extraen las geometrías correspondientes a las redes viales de dichos mapas. Esta información, a su vez, es almacenada en bases de datos geo-históricas que permiten rastrear la evolución del sistema vial regional a lo largo del tiempo. Las conclusiones de este documento dejan entrever que las vías son uno de los sistemas estructurantes del territorio e influyen directamente en su morfología. Asimismo, permiten comprender la importancia de identificar las causas históricas de los problemas y desafíos territoriales, a la hora de establecer estrategias de ordenamiento urbano- regional que se adapten a los contextos ambientales, sociales y económicos de cada territorio.
Ce mémoire vise à montrer les progrès réalisés, dans le cadre du projet COVADEO, en vue de comprendre l'évolution historique de la trame territoriale de la région Bourgogne- Franche-Comté, localisée dans l'est de la France. Ceci, à travers des procédures de vectorisation collaborative de cartes anciennes à travers lesquelles les géométries correspondant aux réseaux viaires desdites cartes sont extraites. Ces informations sont à leur tour stockées dans une base de données géo-historiques, permettant de suivre l'évolution du réseau viaire régional sur le temps long. Les résultats de ce document suggèrent que les réseaux viaires sont l'un des systèmes structurants du territoire et influencent directement sa morphologie. De même, à travers ce mémoire il est possible de comprendre l'importance d'identifier les causes historiques des problèmes et enjeux territoriaux, afin de consolider de stratégies d'aménagement urbain-régional qui soient adaptées aux conditions environnementales, sociales et économiques de chaque territoire.
Fichier principal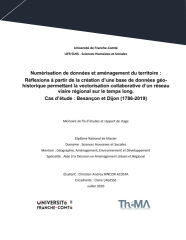 RINCONACOSTA_ChristianAndrey_Geographie_2020.pdf (12.93 Mo)
Télécharger le fichier
Origin : Files produced by the author(s)