Innovation et numérique, une opportunité pour accompagner les transformations de la culture professionnelle enseignante ?
Innovation in education is a testament to changing ways of teaching and learning. Observing the influences of a digital culture and/or the impact of a technological integration for educational purposes makes it necessary for the academic delegation to the digital education to understand the perceptions and needs of teachers. Based on an experiment proposed by the institution to educational teams, our problem aims to question how teachers perceive the introduction of an innovation. To do this, our theoretical framework adopts a three-pronged approach, namely, the innovation process, the teaching ecosystem and professional teaching practices. An explanatory interview, transcription and data reduction methodology was put in place keeping in mind the need for a scaling up. The selected results suggest a new model of support for changes made by an institutional entity, namely the DANE, in the context of professional development of teachers integrating a technological innovation within a teacher ecosystem that becomes unbalanced.
L'innovation réalisée en éducation témoigne de la transformation des façons d'enseigner et d'apprendre. Observer les influences d'une culture numérique et/ou l'impact d'une intégration technologique à visée pédagogique rend nécessaire, pour la délégation académique au numérique éducatif, de comprendre les perceptions et les besoins des enseignants. À partir d'une expérimentation proposée par l'institution à des équipes pédagogiques, notre problématique vise à questionner comment les enseignants perçoivent l'introduction d'une innovation. Pour ce faire, notre cadrage théorique adopte une approche en trois axes, à savoir, le processus d'innovation, l'écosystème enseignant et les pratiques professionnelles enseignantes. Une méthodologie d'entretien d'explicitation, de transcription et de réduction de données a été mise en place en gardant à l'esprit, le besoin à venir d'un passage à l'échelle. Les résultats retenus permettent de penser un nouveau modèle d'accompagnement aux changements opérés par une entité institutionnelle, à savoir la DANE, dans le cadre du développement professionnel des enseignants intégrant une innovation technologique au sein un écosystème enseignant qui devient en déséquilibre.
Fichier principal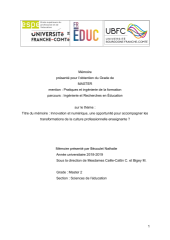 BECOULET_Nathalie_recherche_2019.pdf (3.44 Mo)
Télécharger le fichier
Origin : Files produced by the author(s)