Diagnostic du réseau cyclable de la ville de Besançon
In France, 3 % of daily movements are done with bikes. Compared with others European countries, France has one of the lowest bike use rates and 2 third of daily movements are shorter than 3 km. Thus, French institutions considers bicycle as good way to develop a sustainable transport policy. If building bicycle tracks is a mandatory condition to increase the number of commuters using bikes, it is not the only one to consider. In fact, several causes limit the development of biker use. Then, to strengthen the current bike policy and reduce the influence of bike use limiting factors, French government has proposed a law related to mobility orientation which is supposed to regulate mobility on the whole French territory. This law plan to develop bike use by building equipment dedicated to cyclists. But even if these policies are decided at the national level, local institutions are in charge of making it real. This paper aims to present a diagnostic of a cycling network with the example of Besancon, to anticipate the future development of a bike-friendly environment. Moreover, the second approach of this paper gives information about the relationship between bike using and daily journey habits of Grand Besançon's citizens.
En France, le vélo capitalise seulement 3 % de part modale des déplacements quotidiens. Ce constat place le pays en queue de peloton des pays européens du point de vue de l'usage du vélo. Dans la mesure où les 2/3 des déplacements font moins de 3 km INSEE (2015) le vélo est désormais considéré comme un bon outil à exploiter en vue du développement des modes actifs. Si la présence d'aménagements cyclables est vue de façon consensuelle par les divers acteurs de la question comme une condition indispensable au développement de la pratique. Elle est loin de constituer le seul paramètre à prendre en compte. En effet, de nombreux freins entravent le développement de la pratique. C'est dans le but de lever ces freins et de renforcer les politiques cyclables existantes que le gouvernement a proposé un projet de loi d'orientation des mobilités. L'un des piliers de cette loi est le développement d'aménagements cyclable. Or la mise en place de ses aménagements revient aux collectivités locales. Le présent rapport vise un double objectif : diagnostiquer le réseau cyclable de la ville de Besançon pour anticiper les futures implantations d'aménagements imposés par la loi LOM, et identifier les liens entre les habitudes de déplacements des habitants du Grand Besançon et leur pratique du vélo en ville.
Fichier principal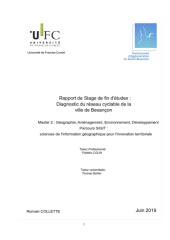 COLLETTE_Romain_Géographie_2019.pdf (2.38 Mo)
Télécharger le fichier
Origin : Files produced by the author(s)